Why MightyMeals Uses the Best Extra Virgin Olive Oil by SIMPLi
By: SIMPLi
SIMPLi works with producers around the world who use ethical farming practices to bring sustainable high-quality grains, legumes, superfoods, spices, and oils directly to your dining table. By working directly with farming communities, SIMPLi helps to simplify the supply chain in an effort to shift value back to farmers and ensure the integrity of its ingredients.  MightyMeals uses SIMPLi's 100% Greek Extra Virgin Olive Oil (EVOO) in its freshly prepared meals because of its high quality, excellent taste, and SIMPLi's commitment to ethical food sourcing to help improve the world.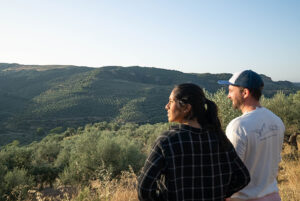 Olive oil is an oil extracted from olives, which are the fruits of the olive tree. The cultivation of olive trees for oil has taken place since Ancient Greek times—likely more than 6,000 years ago. Olives have been a staple in Greece's culinary history, so family traditions for harvesting olive oil have been perfected over time. The Greeks often referred to olive oil as an "elixir of youth and health." Mediterranean diets that prioritize olive oil in addition to whole grains, fruits, legumes, vegetables, fish, spices, and nuts are the gold star for healthy eating.
SIMPli works with growers in the beautiful countryside of Sparta, Greece, who handpick and harvest Koroneiki olives, the most prized olive variety for oil, from more than 25,000 trees once per year for its EVOO. As part of SIMPLi's commitment to transparency, you can find the sourcing information directly on its EVOO tins. SIMPLi's signature olive oil is cold pressed within 24 hours to ensure a high-quality oil that does not lose nutritional value and preserve the olives' rich flavor.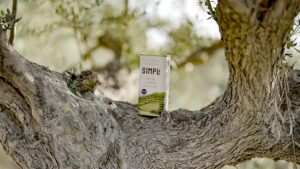 Fraudulent olive oil sold as EVOO in international markets offers a less nutritious product, which our fully vertical supply chain helps eliminate by working directly with growers in the region to ensure the integrity of our oil. SIMPLi's EVOO is produced in a mill that only processes extra virgin olive oil to eliminate any chances of fraudulent activity occurring prior to export—like mixing with other lower quality oil types. The growers they work with use harvesting techniques that have been passed down from generation to generation. Read SIMPLi's post on the EVOO production process to learn more and watch this video to see every step of the process for yourself.
So what is the difference between extra virgin olive oil and regular olive oil?
Extra virgin olive oil (EVOO) is made by pressing olives to extract their oil using a process called "first cold-pressed" which means no heat or chemical additives are used to extract the oil from the olives. It is the highest quality olive oil you can buy because it is the least processed which allows it to maintain its health benefits and potent flavor and aroma. EVOO is rich in heart-healthy monounsaturated fats, disease-fighting antioxidants, and vitamins E and K.
Regular olive oil is refined and uses heat, chemicals, additives, and multiple presses in the process of extracting the oil from the olives, which dilutes the flavor and nutritional properties of the oil. EVOO has a lower smoke point than regular olive oil and has a distinct golden green color and peppery flavor. To be considered EVOO, it must have no more than 0.8% oleic acid. SIMPLi's cold-pressed and chemical-free methods produce a flavorful, healthy EVOO made from the highest quality, unrefined olive oil at the first extract of the olive. Its EVOO typically contains between 0.2-0.5% oleic acid.
With more than 60 different types of olives in Greece, why did SIMPLi choose the Koroneiki olive for its EVOO? 
The Greeks consider Koroneiki olive the "queen of olives" and it is recognized globally as one of the top varieties for oil production. Koroneiki olives have high levels of polyphenols, the natural disease-fighting antioxidants found in plants that help reduce the risk of heart disease and cancer. They are also rich in Vitamin E, Favones, Lignans, and Oleanoic and Maslinic acid—all compounds that protect against inflammation and cancer-causing free radicals in the body. 
Koroneiki olives are also known for its robust flavor profile and complex bright, peppery, and aromatic, tasting notes because of the high polyphenol levels.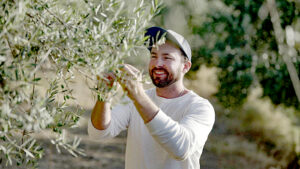 This variety of olives is also known for its high yield levels and resistance to drought—two qualities that make it an environmentally sound alternative to other olive varieties.
SIMPLi brings authentic EVOO straight to your kitchen—one taste and you'll be transported straight to the olive groves of SIMPLi brings authentic EVOO straight to your kitchen—one taste and you'll be transported straight to the olive groves of Greece. SiMPLi EVOO dips and drizzles like a dream and can be used for daily cooking or saved to top off salads, pasta, and mezze platters.  
You can find SIMPLi Extra Virgin Olive Oil in your favorite MightyMeals dishes and bulk items, like these, and so many more!