Watch as Addie Claire, the Director of Nutrition at VIDA Fitness, shows us how to make a healthier version of Sweetgreen's Buffalo Chicken Bowl that is lower in fat and higher in protein. It will save you both time and money, by using MightyMeals meal prep fresh ingredients. It's the perfect recipe for National Meal Prep Day, June 9th of every year.
PREP/COOK TIME: Under 5 Minutes
SERVINGS: 1
INGREDIENTS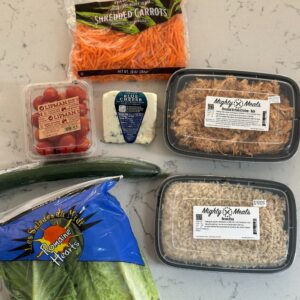 – English Cucumbers,1/2 Cup
– Romaine Lettuce, 1-1/2 Cups
– Cherry Tomatoes, 1/3 Cup
– Shredded Carrots, 1/3 cup
– Blue Cheese Crumbles, 1 oz.
– MightyMeals Bulk Shredded Buffalo Chicken, 4 oz.
– MightyMeals Bulk Brown Rice, ¾ Cup
– Dressing, choose your favorite, just remember to add the macros to the total recipe macros.
Blue Cheese Dressing Hack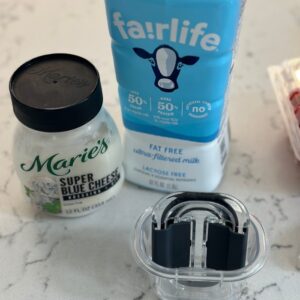 I like to use Fairlife Milk (2 tsp) and mix it with my blue cheese dressing (2 tsp) so that it mixes easier and I don't have to use as much dressing. I'm also able to boost the protein and lower the amount of fat in the dressing this way.
DIRECTIONS
Clean, cut, and dry the cherry tomatoes, cucumbers, and lettuce.
Weigh 4 oz. of Shredded Buffalo Chicken and measure 3/4 cup Brown Rice.

Store all the ingredients in a sealed container in the fridge for when you're ready to eat it, or enjoy your nutritious bowl right away.
NOTES: You can warm up the brown rice and shredded buffalo chicken before eating, that's how I like mine. Or, eat it cold. Either way is delicious.
NUTRITION FACTS AND COST COMPARISON
Sweetgreen Buffalo Chicken Bowl – $14.25
475 calories, 36 grams protein, 24 grams carb and 27 grams fat 
Mighty Meals Version – $6.19
490 calories, 46 grams protein, 45 grams carb and 14 grams fat
ABOUT ADDIE
Addie Claire is originally from Charlotte, NC and got her Bachelor's degree in both psychology and Spanish at UNC Chapel Hill. She worked in community mental health before going back for her Master's in Nutrition at Meredith College in Raleigh, NC. AC fell in love with sports nutrition while working with the dietitians at Notre Dame University during her intern year. She feels passionately about using balanced nutrition to support a balanced life and enjoys helping people use food as a tool to bust through plateaus and hit their goals! Addie is always down to try a new workout and absolutely loves to cook and try new foods. She can make lots of fancy dishes, but her favorite food is anything that resembles PB&J. AC is one of four VIDA Fitness Registered Dietitians.
Find more healthy meal prep recipes to save you time and money on the MightyMeals blog.