MightyMeals Partners with Wizards District Gaming
By: Christine Bean | Photos by: Wizards District Gaming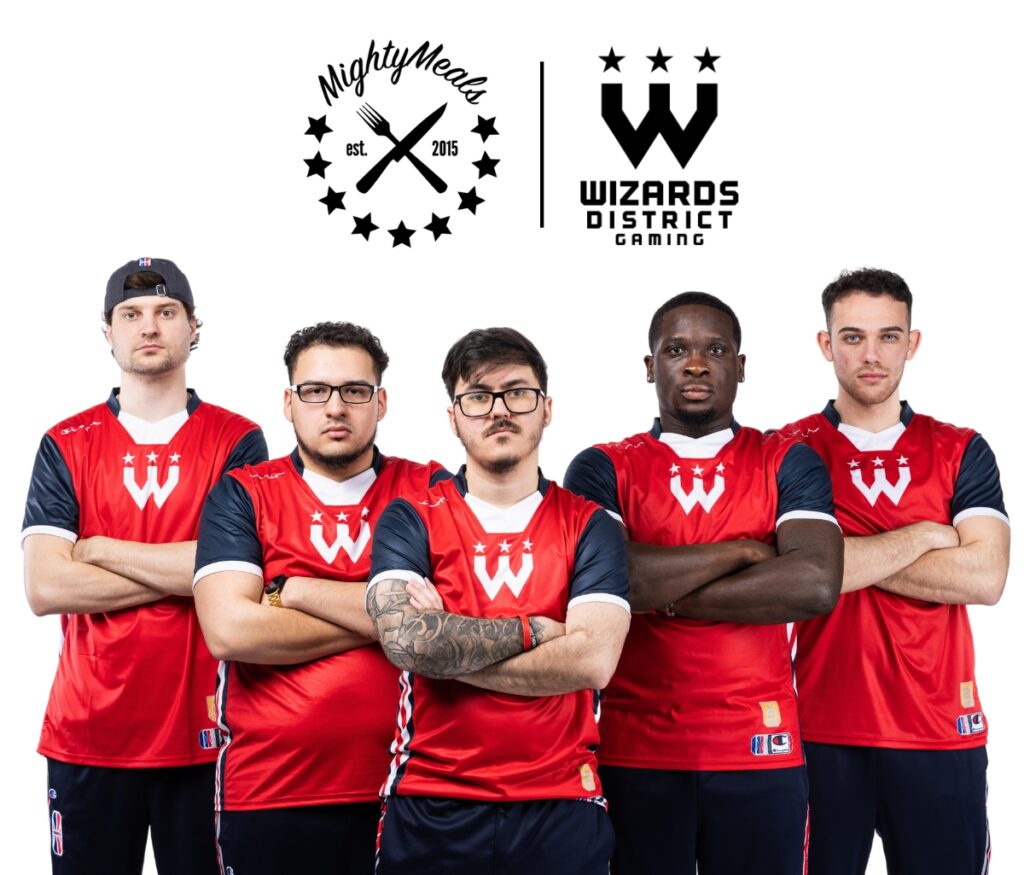 Washington D.C. (May 8, 2023) – MightyMeals, a Northern Virginia healthy meal delivery service, announced today their new partnership with Wizards District Gaming as their official meal prep sponsor. MightyMeals will be providing convenient, healthy, chef-prepared meals to Wizards District Gaming basketball players and coaches, to keep them fueled-up and ready to play. 
Wizards District Gaming is part of the NBA 2K League and is sponsored by the NBA Washington Wizards basketball team. The NBA 2K League, a joint venture between the NBA and Take-Two Interactive, is a professional esports basketball league featuring the best NBA 2K basketball players in the world and is the first official esports league operated by a U.S. professional sports league.
"Cultivating a winning Esports team requires a commitment to excellence in all areas, including nutrition," remarks Wizards District Gaming coach, Patrick Crossan. "That's why we've partnered with MightyMeals, a professional meal prep company that shares our dedication to quality and performance. Their menu boasts a vast selection of tasty meal options that appeal to all of our players' individual tastes and dietary preferences, while their convenient online ordering system ensures that we can easily order meals on-the-go. With MightyMeals fueling our team, we're confident that we have the energy and focus we need to perform at our absolute best.".
Wizards District Gaming fans get a SPECIAL DISCOUNT OF $120 OFF their first four MightyMeals orders!
*Use code WizardsDG23 during checkout. 
*Includes $30 OFF first 4 orders of $75 or more. $120 total savings.
About MightyMeals
Founded in 2015 by two fitness professionals and a classically trained chef, MightyMeals believes high-quality, healthy food should be accessible to everyone. The Burke, Virginia company provides a convenient, healthy meal delivery service made with locally sourced ingredients by chefs, offering a wide array of meals on a menu that changes weekly. Our mission is to empower people to live healthier lives by being the leading provider of healthy, high-quality, locally sourced, chef-prepared meals that are delivered to you. Take the guesswork out of your nutrition so you can spend your time doing the things you enjoy. Visit www.mightymeals.com and use code Meal100 to receive $25 off your first 4 orders. Follow MightyMeals at @eatmightymeals on social media for updates.
About Wizards District Gaming
Wizards District Gaming, owned and operated by Monumental Sports & Entertainment, is part of the NBA 2K League, a professional esports league co-founded by the NBA (National Basketball Association) and Take-Two Interactive Software, Inc. (NASDAQ:TTWO). Launched in 2018, the league features the best NBA 2K players in the world. Wizards District Gaming drafts and/or retains gamers as part of a team that competes as unique characters in matchups against 24 other teams in a mix of regular-season games, tournaments and playoffs. For more information about Wizards District Gaming, their schedules, and how to watch them, visit www.wizardsdg.com.