MightyMeals Partners with Dorvie Home Concierge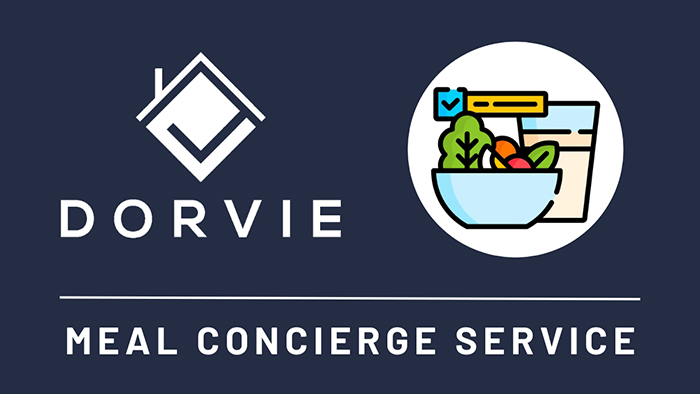 Gainsville, VA – January 23, 2023 –  MightyMeals is excited to announce our partnership with Dorvie, a DC-based home concierge service aiming to solve the logistics of life.  Dorvie's mission is simple: to allow its members to enjoy life and let Dorvie handle the rest! MightyMeals and Dorvie share a common goal of taking one more thing off of their customers' plates so they can spend more time doing the things they enjoy.
Dorvie makes it easier for you and your loved ones to find, coordinate, and receive home services such as home maintenance, housekeeping, lawn care, and food delivery. With the goal of saving you time, energy, and money, they take care of everything: connecting you with trusted service providers, scheduling when they arrive at your home, and making payment easy.

"Partnering with a high-quality, local meal delivery service was important to us," remarked Jay Fuller of Dorvie. " We spent a lot of time researching potential meal delivery partners in the DC area. We know the customers we work with demand trusted, reliable, and high quality-high value offerings – which led us right to MightyMeals. MightyMeals' presence and reputation added to the ease of making our decision to partner."
Dorvie customers can now get healthy, chef-prepared meals delivered right to their doorstep from MightyMeals! Making nutritious, convenient, high-quality food easily accessible to everyone has been MightyMeals' mission since day one. With low-carb, low-cal, and gluten-free menu options, and the ability to filter by macro, there is something for every diet and palate.

About MightyMeals
Founded in 2015 by two fitness professionals and a classically trained chef, MightyMeals believes high-quality, healthy food should be accessible to everyone. The Burke, Virginia company provides a convenient, healthy meal delivery service made with locally sourced ingredients by chefs, offering a wide array of meals on a menu that changes weekly. Our mission is to empower people to live healthier lives by being the leading provider of healthy, high-quality, locally sourced, chef-prepared meals that are delivered to you. Take the guesswork out of your nutrition so you can spend your time doing the things you enjoy. Visit www.eatmightymeals.com and use code Meal100 to receive $25 off your first 4 orders. Follow MightyMeals at @eatmightymeals on social media for updates.

About Dorvie
Dorvie is a subscription-based concierge that organizes collections of home services, like house cleaning, meal delivery, laundry, and more. You'll receive a one-stop experience, complete with exclusive member rates, reliable service providers, and consolidated billing. Simply bundle the services you want, select the perfect frequency for receiving them, and schedule a call with your Dorvie Concierge. We'll take care of  the rest: coordinating your services and sending you a consolidated bill at the end of every month. Enjoy Life, Let Dorvie Handle It! Visit www.dorvie.com or follow Dorvie on Facebook for updates.