MightyMeals is the New Official Meal Prep Company of the UMBC Retrievers Athletics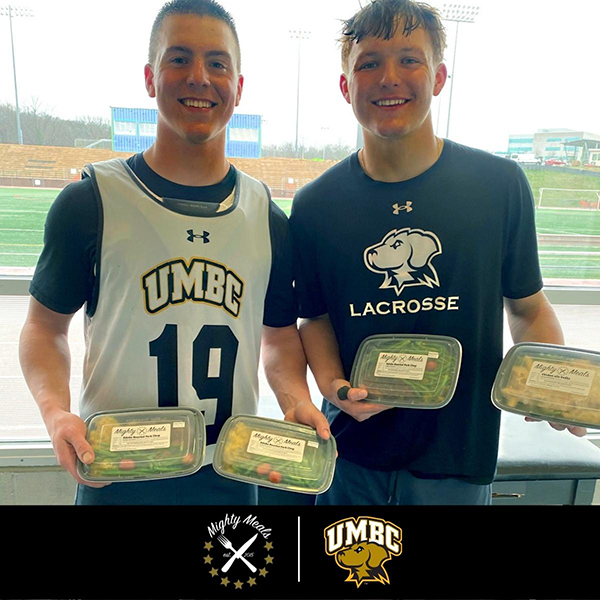 BALTIMORE, MD (MARCH 28, 2022) – MightyMeals, a Northern Virginia healthy meal delivery service, has announced that they are now the Official Meal Prep Company of UMBC Retrievers Athletics. Throughout the course of their three-year partnership, MightyMeals will provide healthy, fresh, pre-packaged meals for UMBC's athletes, coaches, and staff members. 
The UMBC Retrievers represent the University of Maryland, Baltimore County in NCAA Division I athletics for soccer, baseball, basketball, cross country, lacrosse, swimming & diving, track & field, and volleyball. MightyMeals' wide variety of fresh, ready-to-heat dishes will provide the athletes with a nutritious and protein-packed meal that will fuel them on and off the field year-round.
"Student-athlete nutrition is an important element of our sports performance program," remarked UMBC Athletic Director, Brain Barrio. "That makes this partnership such a win-win for UMBC Athletics. We are proud to have Mighty Meals as a partner and hope that our fans and alumni enjoy the product as much as our students and staff do." 
As the leading provider of top-quality, chef-prepared meals in the Baltimore and D.C. metro region, MightyMeals is proud to partner with the UMBC Retrievers, empowering their players, coaches, staff members and fans to live healthier lives. 
About MightyMeals
Founded in 2015 by two fitness professionals and a classically trained chef, MightyMeals believes high-quality, healthy food should be accessible to everyone. The Burke, Virginia company provides a convenient, healthy meal delivery service made with locally sourced ingredients by chefs, offering a wide array of meals on a menu that changes weekly. Our mission is to empower people to live healthier lives by being the leading provider of healthy, high-quality, locally sourced, chef-prepared meals that are delivered to you. 
Take the guesswork out of your nutrition so you can spend your time doing the things you enjoy. Visit www.eatmightymeals.com and use code Meal100 to receive $25 off your first 4 orders. Follow MightyMeals at @eatmightymeals for updates. 
About UMBC Retrievers Athletics
University of Maryland, Baltimore County, features 17 Division I men's and women's sports, and our scholar-athletes are known for combining their passion for athletics with their commitment to education. UMBC teams have earned several America East championship titles in recent years, including in swimming/diving, basketball, and soccer. The newly-opened UMBC Event Center hosts men's and women's basketball and women's volleyball, and comes equipped with a practice gymnasium, state-of-the-art strength and conditioning and academic centers, a sports medicine suite, multimedia spaces, and meeting facilities. Retriever Nation keeps up-to-date on games and athletics news through the UMBC Retrievers website.