MightyMeals Healthy Meals VS Other Meal Prep Services
By Carrie Walco-Bowman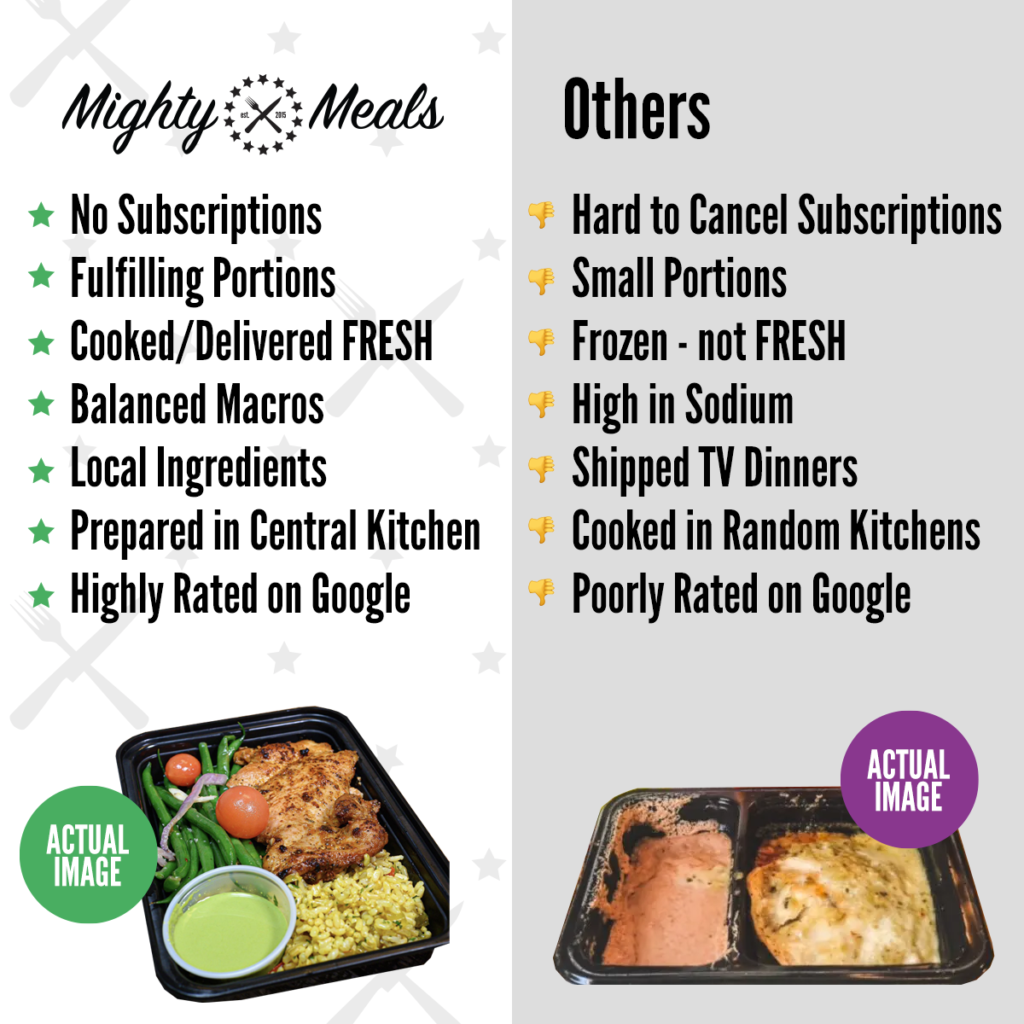 Meal prepping can be challenging, right? Then, when you try to find help, you can get lost in a sea of meal prep food delivery services without a clear direction or anyone to trust. The good news is that the MightyMeals team is here to help you navigate your way toward eating healthy and staying on track. We've done our research and made comparisons with some of the top meal prep services available. Read on to see how we measured up. 
No Subscriptions VS Hard to Cancel Subscriptions
Most meal prep delivery services require you to order a minimum quantity or commit to a long-term subscription, even when you don't need that much food. And some meal subscription services can be hard to cancel as they force you to deal with difficult customer service people and processes. At MightyMeals, there are no commitments and no minimums, EVER. Instead, you order what you want, how much you want, and when you want your healthy prepared meals delivered right to your door.
Fulfilling Portions VS Small Portions
Have you read about our story and mission yet? MightyMeals was founded by two hungry fitness professionals and a professionally-trained chef who demanded fresh, nutrient-dense meals for themselves and their clients. Meals that were filling, didn't skimp on flavor, or leave them feeling hungry. The same remains true today. Our meal portions have remained the same: healthy, FULFILLING, and delicious, and they only keep getting better with new menu item introductions. You can't say that about the small portions that most meal prep service companies dole out and then ask you to buy more to fill you up.   
Cooked/Delivered FRESH VS Frozen Prepared Meals
We are not mind readers here at MightyMeals. So, we don't create meals before you order them, expecting you to order what we think you want. However, we know you'll wish your made-to-order meals to be made with the freshest ingredients AFTER placing your order. Therefore, our chefs only start to prepare and cook your meals after you order, and only a day or two before they get delivered fresh to you. Also, our meals are never frozen, unlike some other meal prep companies who think they can read your mind.  
Macro Balanced Meals VS Meals High in Sodium
Every one of the delicious recipes we use for our MightyMeals prepared entrees, and a la carte items are approved by a dietitian. This process ensures that we always provide the freshest, balanced meals with the optimum number of macronutrients: calories, protein, carbs, and fat. However, buyers beware, not all chef-prepared meals from other meal delivery services are approved by dietitians. They often contain high sodium (or fat) levels, throwing your macronutrient counts way off balance into the unhealthy zone.
Locally Sourced Ingredients VS Shipped TV Dinners
We cannot say enough about how much we love and support our local communities (just ask around). What do we love more? Our local produce, farms, meats, herbs, and other ingredients, of course! We always strive to include locally sourced ingredients in our meals whenever possible. Local ingredients retain the most flavor, freshness, and nutrients since they are not lost during long transit times. Unfortunately, not all meal prep companies are able to provide the freshest ingredients, and may need to freeze their meals, resulting in ready-made meals tasting like Grandma's TV dinners from the 60s and 70s. 
Prepared in a Central Kitchen VS Cooked in Random Kitchens
I'm sure you've heard the saying, "too many cooks in the kitchen spoil the broth." This holds true for meal service delivery companies when they have too many kitchens they use to outsource their meal prep. It results in meals that don't taste good and have poor quality. At MightyMeals, we use a centralized kitchen that is AIB Certified (an internationally recognized food safety certification). This ensures that each time you order a meal, it is made adhering to strict safety precautions and delivered to you just as fresh and delicious as the last time you requested it. 
"From start to finish, everything at MightyMeals happens under one roof," said Stefano Marzano, Executive Chef, MightyMeals. "We locally source all of our ingredients, which never leaves our 37°F refrigerated prep room where all of our ingredients are cut, prepped, bagged and packaged. Most companies do not take the same precautions and this process makes us unique in comparison to our competitors."
Highly Rated Meal Prep Service VS Poor Ratings on Google
Before you try any service, it's always good to look at the companies' Google reviews. MightyMeals is proud to say that we remain consistent and highly rated on Google with 4.8 out of 5 stars. However, as you search, you'll find that many other popular prepared meal prep services only rate at 3.6 stars, or even lower, at 2.5 stars. And some companies' Google reviews are non-existent, which makes you wonder… are their poor ratings due to poor taste, bad delivery, awful customer service, or maybe all of the above?