MightyMeals Expands Delivery in Maryland and Virginia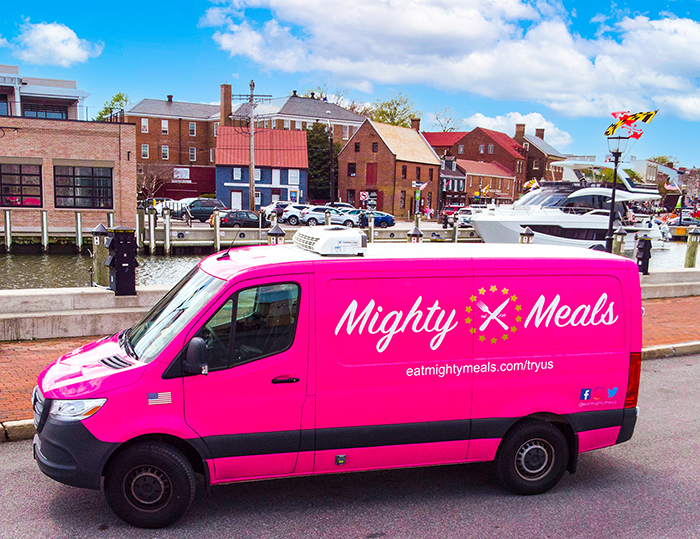 Gainesville, VA – April 13, 2023 – MightyMeals, Virginia's leading healthy meal delivery service, announced today that they are expanding their services to reach more zip codes in Maryland, east and west of Frederick, and in Richmond, Virginia. These communities will now have the ability to order convenient, ready-to-eat meals, delivered right to their door. Beginning April 7, more VA and MD residents will be able to place MightyMeals orders for delivery beginning on April 12.
As the leading provider of top-quality, chef-prepared meals in the Washington, D.C. metro region, MightyMeals prides itself on empowering people to live healthier lives. Designed to save time and take the guesswork out of nutrition, the menu features a wide variety of more than 100 different meals, snacks, and a la carte options, rotating weekly. Contactless delivery via MightyMeals refrigerated vans can be tracked by SMS notifications from the MightyMeals kitchen to the recipients doorstep, in real-time.
Making nutritious, convenient, high-quality food easily accessible to everyone has been MightyMeals' goal since day one. With low-carb, low-cal, and gluten-free menu options, and the ability to filter by macros, there is something for every diet and palate.
"MightyMeals is proud to bring our fresh and healthy meals to more Virginia and Maryland communities to bridge the gap between quality and convenience," remarked MightyMeals' Executive Chef & Co-Founder, Stefano Marzano. "We have built an amazing community through healthy food in Northern Virginia, and we look forward to expanding our mighty community into more counties."
For more information on MightyMeals or to place an order, visit: www.mightymeals.com.
MightyMeals is now delivering to these NEW ZIP CODES in the Maryland and Virginia areas:
21228  Catonsville
21043  Ellicott City
21042  Benson
21045  Columbia
21046  Guilford
20759  Fulton
20777  Highland
20759  Fulton
21029  Clarksville
21723  Cooksville
21738  Glenwood
21737  Glenelg
21797  Lisbon
21771  Woodville
21790  Tuscarora
21777  Point of Rocks
21703  Ballenger Creek
21755  Jefferson
21758  Rosemont
21716  Brunswick
23832  Chesterfield
23237  Bellwood
21710  Lilypons
21784  Eldersburg
21163  Woodstock
21104  Marriottsville
21044  Columbia
21794  West Friendship
21036  Dayton
About MightyMeals
MightyMeals is the official meal prep company for Old Glory DC Major League Rugby, DC Divas Professional Women's Football Team, The Command Force (official entertainment team for the NFL Washington Commanders football team), and the University of Maryland, Baltimore County. MightyMeals was founded in 2015 by two fitness professionals and a classically trained chef. MightyMeals believes high-quality, healthy fresh food should be accessible to everyone. The Gainesville, Virginia company provides a convenient, healthy meal delivery service made with locally-sourced ingredients by chefs, offering a wide array of meals on a menu that changes weekly. Our mission is to empower people to live healthier lives by being the leading provider of healthy, high-quality, locally sourced, chef-prepared meals that are delivered to you. Take the guesswork out of your nutrition so you can spend your time doing the things you enjoy. Visit www.mightymeals.com and use code MEAL100 to receive $25 off your first 4 orders. Follow MightyMeals on social media at @eatmightymeals for updates.