MightyMeals adds 100+ Delivery Zip Codes in Maryland and Virginia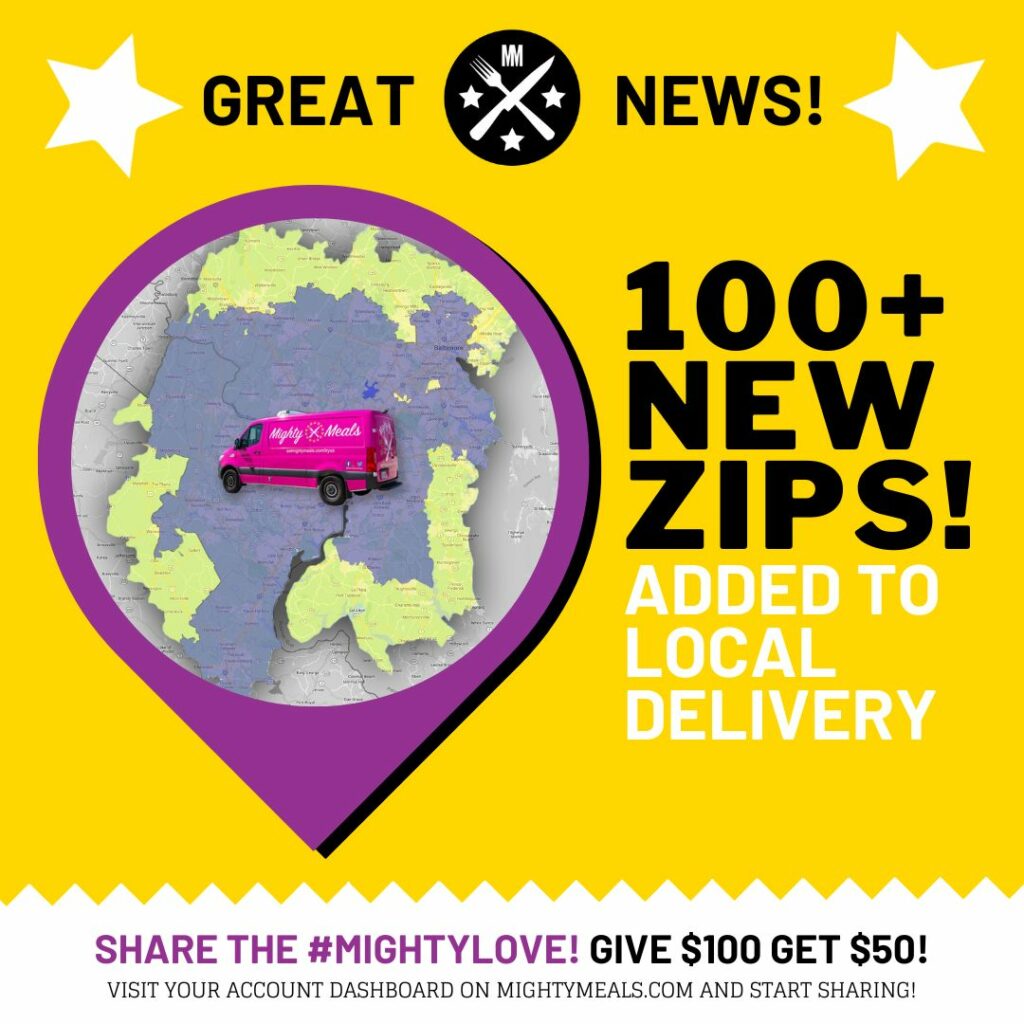 Gainesville, VA – November 13, 2023 – MightyMeals, Virginia's leading healthy meal delivery service, is their services to reach 100+ more zip codes into Maryland, coastal Virginia and reaching deeper into Virginia. These communities will now have the ability to order convenient, ready-to-eat meals, delivered right to their door. Beginning Monday November 13th, more VA and MD residents will be able to place MightyMeals orders for delivery.
As the leading provider of top-quality, chef-prepared meals in the Washington, D.C. metro region, MightyMeals is committed to fostering healthier lifestyles. Crafted for convenience and nutritional precision, our extensive menu boasts over 100 diverse meals, snacks, and à la carte options that rotate weekly. Our MightyMeals refrigerated vans ensure contactless delivery, and recipients can track their orders in real-time through SMS notifications from the kitchen to their doorstep.
From the outset, MightyMeals has strived to make nutritious, convenient, and top-notch food accessible to all. With menu options catering to low-carb, low-calorie, and gluten-free preferences, and the added flexibility to filter by macros, we cater to every dietary need and taste.
Reflecting on this expansion, MightyMeals' Executive Chef & Co-Founder, Stefano Marzano, expressed pride, saying, "MightyMeals is thrilled to extend our reach to more communities in Virginia and Maryland, bridging the gap between quality and convenience. We've cultivated a vibrant community through healthy food in Northern Virginia, and we eagerly anticipate expanding our mighty community to more counties."
For more information on MightyMeals or to place an order, visit: www.mightymeals.com.
MightyMeals is now delivering to these NEW ZIP CODES in the Maryland and Virginia areas:
20115
20119
20186
20188
20198
22712
22720
22728
22734
22742
20115
20119
20186
20188
20198
20611
20632
20646
20662
20664
20677
20693
22712
22720
22728
22734
22742
21013
21020
21023
21027
21030
21031
21047
21048
21051
21057
21065
21071
21082
21085
21087
21092
21117
21128
21131
21133
21136
21152
21153
21155
21156
21157
21162
21208
21219
21220
21221
21222
21236
21237
21244
21701
21702
21709
21757
21759
21762
21769
21773
21775
21776
21778
21788
21791
21793
21798