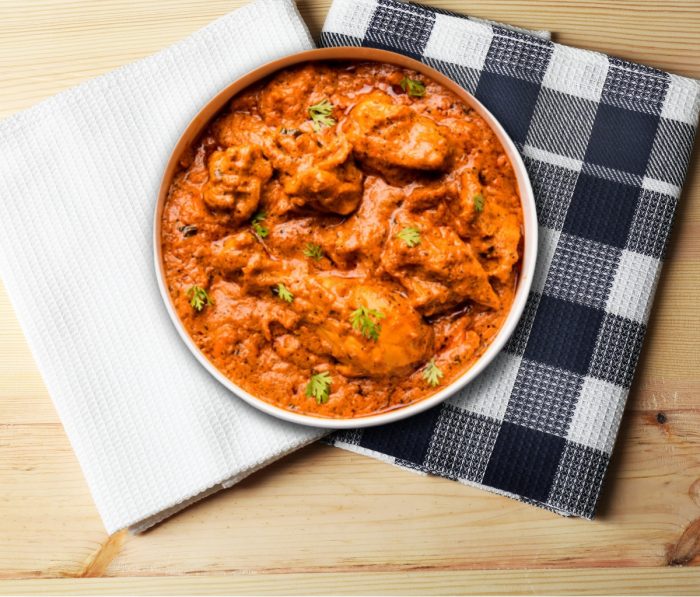 Another simple and healthy recipe from our friends at Cōpare Health! We've made it even easier by using MightyMeals' freshly prepared bulk Chicken Bites to save time and skip an entire cooking step!
Serves: 6
INGREDIENTS
2 tsp coriander
2 tsp cumin
1 ½ tsp paprika
½ tsp cardamom
½ tsp cayenne pepper
¼ tsp nutmeg
1 Tbsp olive oil
1 MightyMeals Bulk Roasted Chicken Bites
1 yellow onion, peeled and chopped
1 Tbsp fresh ginger
¼ cup tomato paste
1 cup plain Greek yogurt
Salt and pepper to taste
DIRECTIONS
In a small bowl, whisk together the coriander, cumin, paprika, cardamom, cayenne pepper, and nutmeg. Set aside.
Heat a large skillet over medium heat. Add oil. Add onions and cook until brown around the edges. Add spice mixture and cook for about two minutes.
Add fresh ginger, tomato paste, and Greek yogurt to the skillet, stirring to mix thoroughly. Add the chicken to the sauce. Increase heat to medium and bring to a simmer. Turn the heat to low and continue cooking, stirring occasionally, until sauce thickens to desired consistency.
Add salt, pepper, and cilantro to taste.
NUTRITION FACTS
Calories: 302 | Protein: 25 g | Total Carbohydrates: 5 g | Dietary Fiber: 1.5 g | Fat: 21 g