6 School Lunch Box Ideas for Kids Using MightyMeals
By Christine Bean
As a busy mom of two, I think I can speak for most parents when I say that packing school lunches can be overwhelming. Just the daily thought of, "what can I pack for my kids that's healthy, but yummy enough that they won't toss it?" is enough to make my head spin! Fortunately, my kids are decent eaters, so planning, grocery shopping, and prepping are the tough parts for me. That's where MightyMeals comes in.  
MightyMeals has been a huge time saver, and money saver, when it comes to preparing school lunches. My kids love the meals, and I love knowing that they are prepared using whole, real ingredients, and no artificial junk.  And let's be honest, I really love how it makes packing lunches in the mornings so much easier! Check out these six nutritious and delicious school lunch ideas, using MightyMeals, that are mom and kid approved!
1.  Chicken bites, brown rice, baby carrots, & grapes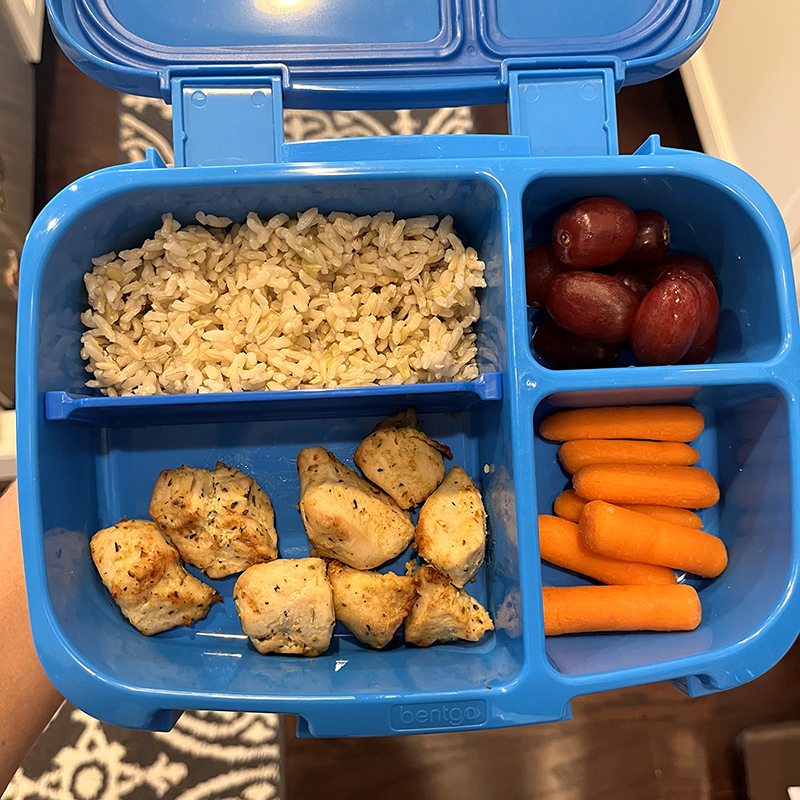 A healthy and protein-packed meal that even the pickiest of eaters will enjoy! Both the roasted chicken bites and the brown rice can be purchased as à la carte options, and they are versatile enough to use throughout the week for adults and kids alike! Just mix and match your fruit and veggie sides, and your kiddos will give this lunch two thumbs up!

2.  ½ Chicken Caprese Wrap, mixed berries, & cucumber slices 

My kids absolutely love the Chicken Caprese Wrap, and I cut it into pinwheels to make it easy for little hands.  The wraps are large, so I am able to split one between both kids, and I add berries and a veggie for a well-rounded and filling meal! You can easily pull-out the spinach if your child is not a fan, but luckily my kids don't mind it.
3.  Salmon cake, couscous, roasted veggies, peaches & blueberries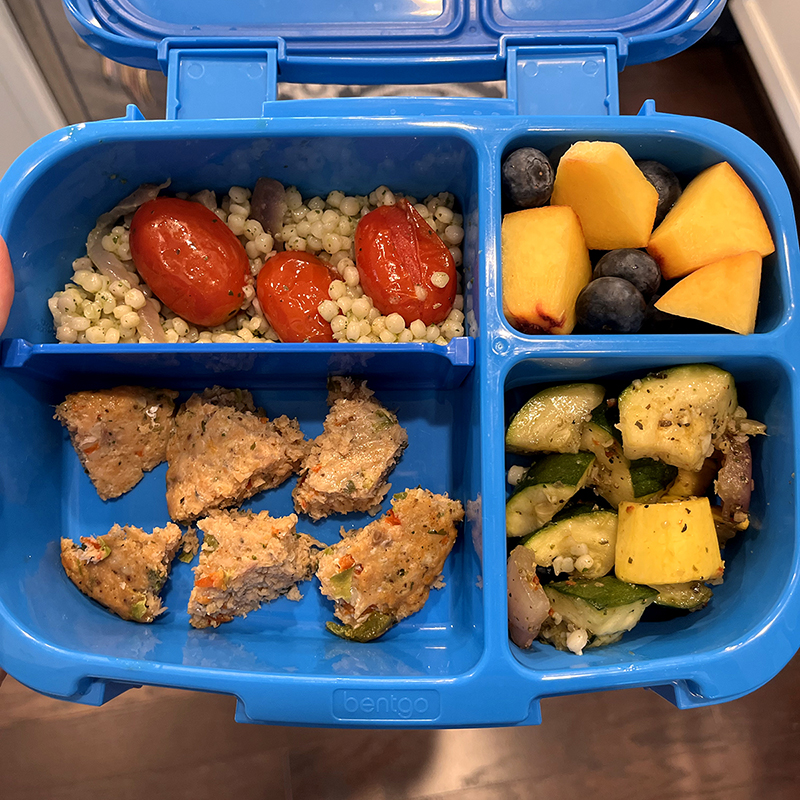 Yummy salmon cakes make an easy lunch on-the-go! You can buy them à la carte, but my kids are big fans of the couscous and roasted veggies in the Salmon Cakes meal, so it's an ideal dish to split between two lunches. Add a side of fruit, and your kids' lunch will check all the boxes!
4.  Penne pasta, turkey meatballs, bell peppers, & a clementine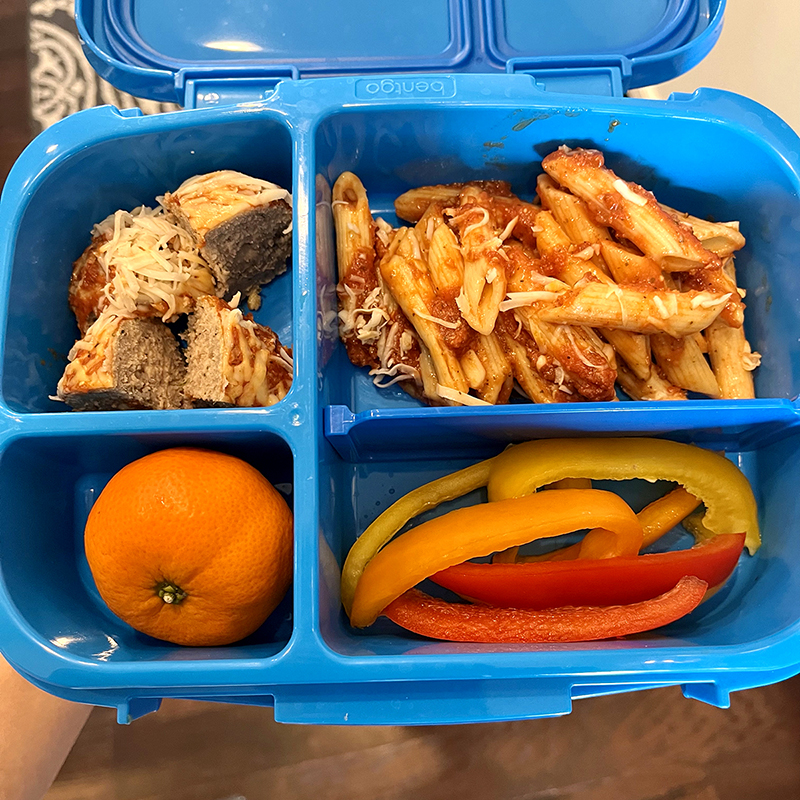 Pasta & meatballs is a staple in our home, so having it for lunch at school is always a treat! (Especially when mom knows it's a healthy version!) Tomato & Pesto Penne with Turkey Meatballs is an easy, protein-forward dish to split between two lunch boxes.  Add in a fruit and veggie, and you can count this as a win!
5.  Salmon, Berg Bites, green pea crisps, & strawberries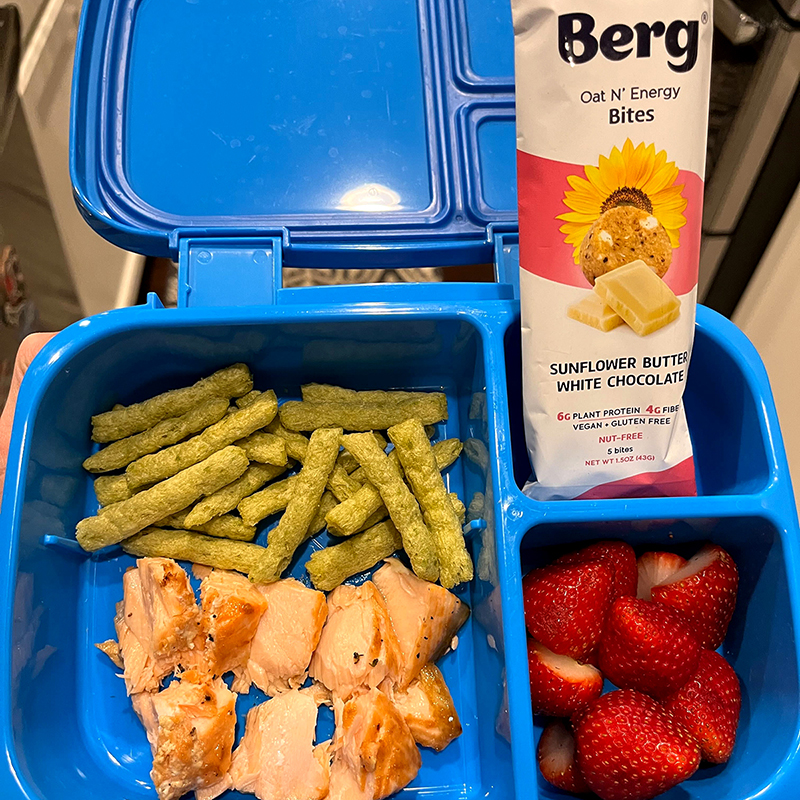 À la carte salmon is a great protein to use in a variety of ways throughout the week. My kids will gobble it up warm or cold, so it's ideal for school lunches!  Crunchy pea crisps and strawberries are the perfect healthy sides, and my kids squeal when they see that mom packed sunflower butter white chocolate Berg Bites for dessert!
6.  Pesto chicken, orzo pasta salad, yogurt covered raisins, carrots & raspberries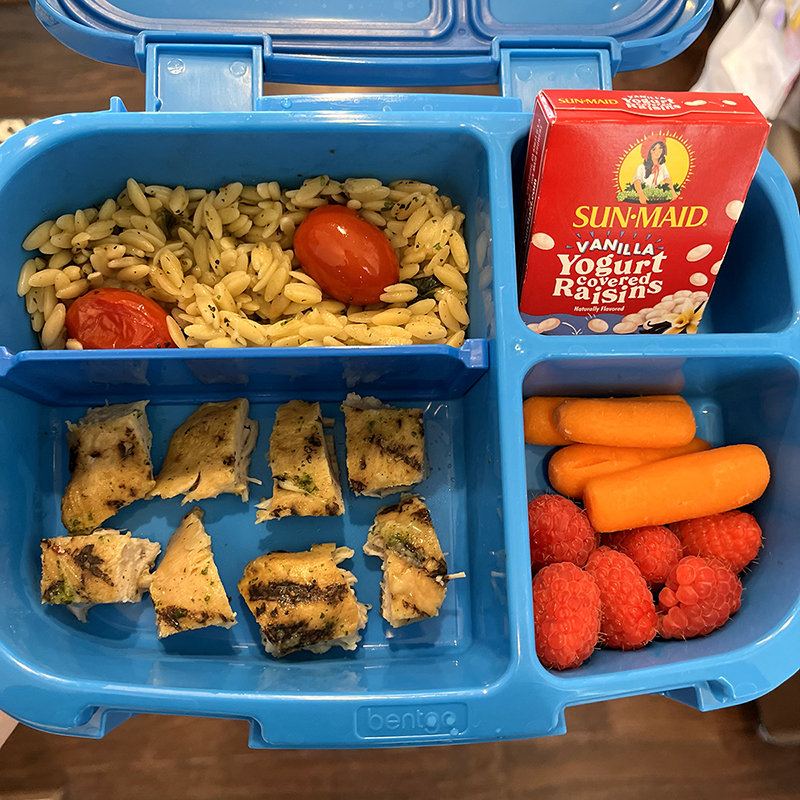 Basil Pesto Chicken & Orzo is one of my kids' favorite MightyMeals dishes, and it makes for a quick and easy school lunch that can be served warm or cold! Pair with carrots and raspberries as your fruit & veggie options, and throw-in some yogurt covered raisins for a healthy treat!